Appmonger 1.6 is now available from the Android Market. The major new feature in this release is "Order Reconciliation". Basically, this is a mechanism for Appmonger to take advantage of the recently introduced monthly Android Market Sales Reports to make its figures more accurate. This is described in more detail below.
Another new feature is the option to exclude orders that haven't been charged yet from your figures. Effectively this allows you to toggle between glass-half-full and glass-half-empty reports. In addition, there are several other minor improvements and fixes that make this a recommend update for users of previous versions.
Order Reconciliation
Back in February, Android Market added support for buyer's currency transactions. To support this change, Google Checkout's order report data changed to report values in the buyer's currency rather than the seller's currency. This change broke Appmonger 1.4.
Unfortunately, the data provided by Google Checkout now includes only the buyer's currency value; it does not convert it into the seller's currency nor does it provide any indication of the exchange rate used. To resolve this problem we introduced third-party currency conversions in Appmonger 1.5. While this addressed the immediate problem of the figures being completely incorrect in Appmonger 1.4, without access to the exact exchange rates used by Google, it could only ever be an approximation.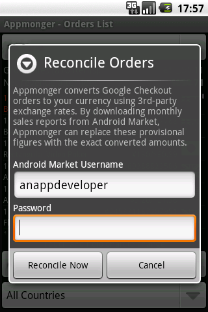 Since then, Google has introduced Android Market Sales Reports and these do include the converted amounts and exchange rates. These reports are only updated once a month so they cannot completely replace the Google Checkout reports that Appmonger uses to provide timely sales information. What they have enabled us to do in Appmonger 1.6 however is to periodically replace the provisional currency conversions with the exact values according to Google.
Performing the reconciliation process once a month (when a new sales report becomes available) will maintain the accuracy of your reports by eliminating the drift caused by exchange rate differences. You can reconcile the order reports by selecting "Reconcile" from the application menu. You will need the username and password for your Android Market publisher account.