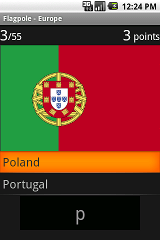 It's been a little while since we released Flagpole, our simple but addictive flag recognition game for Android. One complaint that we've had is that it's too unforgiving. We happen to like the all-or-nothing approach but we agree that it can be discouraging for people trying to learn the flags. Therefore we've introduced a new default scoring mode in version 1.1. The dreaded sound of our awful buzzer no longer means "game over". Instead you lose a point from your score and can guess again. You still have to get them all right to complete the challenge but you can set a high score with one or two mistakes. If, like us, you prefer the old approach, you can choose it from the settings menu.
Flagpole 1.1 is available now from the Android Market for just 99p. You can also download Flagpole Lite for free, which includes a subset of the flags from the full version.
We are currently experimenting with alternative distribution channels for our Android applications. You can purchase Flagpole via Paypal at AndAppstore. We hope this provides a convenient option for users in countries where the Android Market is inaccessible. If you would like us to publish to other third-party app stores, please leave your suggestions in the comments.